Rental for the Truss square 29 x 29 for rade fairs, events. Barcelona, Lérida, Tarragona and Gerona
With the Rental of square truss of 29 x 29 extruded aluminum can make a composition of structures in which the sections are fit together and allow the construction of an easy way ephemeral structures easy to transport, move, assemble and it also provides multiple ways according to the needs of the space.
Truss structures are composed by sections of different sizes, from 0.50 m to 3.50 m, facilitating transport and handling of the same. These sections or parts are joined to one another, thus enabling to obtain the desired structure size.
The truss is an aluminum structure with a great advantage for the assembly and disassembly as its weight is very low. Truss is also designed to achieve a very quick assembly and disassembly as well.
Structures are very versatile with many uses such as:
Square truss hire for stands construction & designs.
Square truss for spotlights, RGB lightning or LED lightning in fairs or trade shows.
Square truss hire for exhibitions, events, congresses, presentations.
Square truss hire for banner advertising.
Square truss hire for photocall.
Square truss hire for fairs in Barcelona, Lerida, Tarragona and Gerona.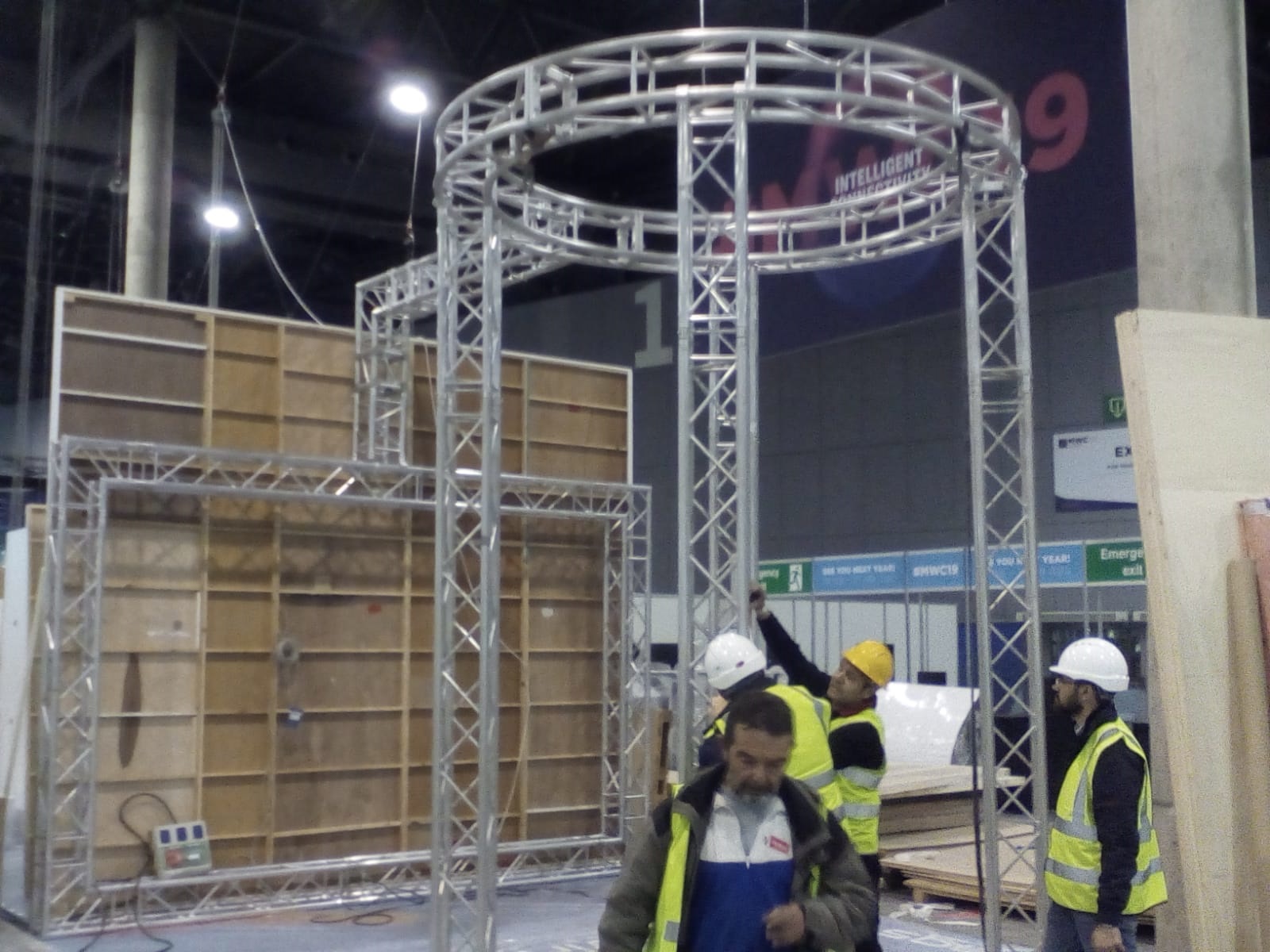 The great advantage in the assembly and disassembly of this system of ephemeral structures is that its weight is minimum, without compromising strength, because the material thereof is aluminum tube, and provides you with multiple ways of mounting, according to the needs of the space. Also it is very easy and quick to mount.
Rental for the Truss square and circular 29 x 29, hotocalls, stands for trade fairs.Barcelona, Madrid, Valencia, Zaragoza, Spain, Europe
We have been present at important trade fairs such as MWC, ISE, ARCO, SIMA, Smart City, IBTM, SIL, CPHI, Construmat. Barcelona Meating Point, ARCO, Infarma, CPHI, Fruit Attraction, Còmic, Manga, Cosmobeauty, BforPlante, eShow, Hostelco & Alimentaria, Nàutic, BIEMH, Bedigital, Medica, ANUGA FOOD TECH, SIAL, BATIMAT IFFA
In cities such as Madrid, Zaragoza, Valencia, Barcelona, Bilbao, Nice, Montpellier, Toulouse, Perpignan, Paris, Lyon, Munich, Cologne, Hamburg, Rimini, Milan, Nuremberg, Düsseldorf, Amsterdam, Hannover, Monaco, Marseille, etc.
If you would like to receive a personalised quote, do not hesitate to contact our company in the contact section without any type of commitment.
To follow our latest work and assemblies follow us on our Youtube or Instagram.