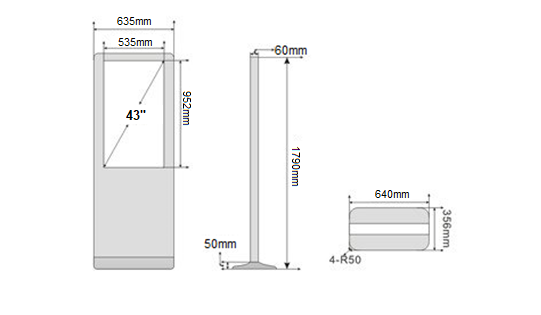 Technical specifications:
Weight: 90 kgs aprox
Screen size: 43 inches
Reference: KX-LE43L
Monitor: LG Original
Tactile technology: Projected capacitive, 10 simultaneous contact points
Resolution: 4K, UHD, FullHD
Brightness: 500cd/m²
Monitor matrix: IPS
Sound: stereo 15W
Average power consumption: 175W
Maximum power consumption: 375W
Built-in computer:
OS: Android
Version: 7.1.2 Nougat
CPU: Rockchip 3399 Dual-core ARM Cortex A72 & Quad-core ARM Cortex A53
OS resolution: 2160p / UHD
RAM: 4GB
ROM: 16GB
Connectivity: WiFi and LAN
In addition to the built-in computer, our totems allow the use of any external computer through an HDMI port connection for audio and video signals and a USB type-A port for the touch function.
SB Service totems are ground-based, casters can be installed if required.
The device is supplied in a flight case.