The Video Wall is an audiovisual solution suitable when you want to obtain the highest image resolution on a large screen.
SB Service, we opted for the 4K resolution video wall, the latest technology available. This guarantees the success of your events or presentations for fairs, congresses or commercial acts.
The 46-inch rental wall monitors are approximately 102 cm wide by 57 cm high.
From there, we can form different types of large format screens, with three, four, six or nine monitors as the main standards.
We can also customize the composition of the screen, according to your needs. These monitors can be used landscape and portrait mode.
The 46 inch 3 x 2 rental video wall consists of six latest generation screens with a frame of only 1.8 mm, the thinnest existing, so that the image appears as if it were one screen.
The monitors are original LG with a brightness of 500 nits.
The resolution of each monitor is 2K, so with this video wall format, we can achieve a resolution equivalent to 4K.
The matrix is two lines and three columns and the aspect ratio is 24:9, ideal for displaying its content in a spectacular
ultra panoramic format. Your presentations will leave no one indifferent.
The final size of your Wall of screens will be 307 cm wide by 115 cm high, which would be equivalent to a screen of approximately 120 inches.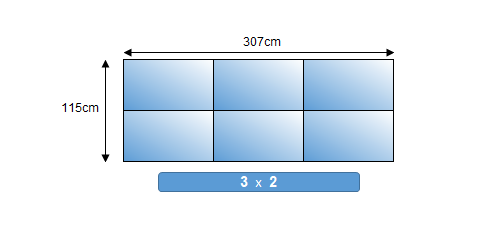 The installation of the video wall takes about two hours and is done on the wall.
The video signal is managed by a video processor or a "seamless switch" signal controller.
SB Service is in charge of transport, assembly and disassembly, as well as technical assistance during your events if necessary.
If you would like more detailed information, please do not hesitate to contact us.