Smart TV LED UHD 4K (3840 x 2160 px), 75 inches
Rental of 75 inch 4k LED Smart TV for fairs, congresses, conventions, conferences and all types of events in Barcelona. We also offer services in Girona, Lleida and Tarragona.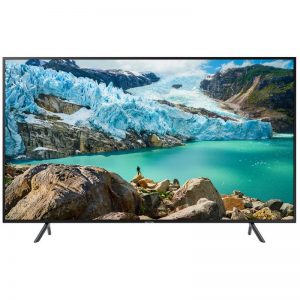 Weight and dimensions
Measures without base: 1684.6 x 966.4 x 60.6
Dimensions with stand: 1684.6 x 1056.5 x 356.1
SB service: we have a wide range of LED screens, televisions of different sizes and resolutions, in Full HD and Ultra HD 4K. All our smart TVs are equipped with it:
– HDMI input – Input
– USB for media player (video, music and photo)
– 4K Ultra HD resolution (3840 x 2160 px.)
Location of 4K UHD smart TVs (3840 x 2160 px) for fairs and exhibitions in the catalog. We offer our services at the most important fairs such as  Fira Barcelona , CCIB – Centro de Convenciones Internacional de Barcelona , Palau Firal i de Congressos de Tarragona  , Fira de Girona ,  Fira de Lleida ,  Fira de Reus ,  Llotja de Lleida Palacio de Congresos ,  Fira Terrassa ,  Fira de Cornellà ,  La Farga ,  Fira d'Igualada among others.
Location of LED televisions for shows, as well as important shows such as Mobile World Congress, 4YFN, Ensenyament, Alimentaria, SIL, CPHL, Hostelco, Construmat, Sonar, Euro Atrractions, Saló Nàutic, Smart City Expo, IBTM Word, Meeting Point , Expoecosalud, Infarma, Automobile …
Full HD televisions have a resolution of 1080p, i.e. 1920 × 1080 pixels, for a total of 1920 x 1080 = more than 2 million points.
The 4K format, also called Ultra High Definition (UHD), uses the new resolution 4K or Ultra HD, which offers 3840 x 2160 pixels = more than 8 million points. That's four times more than 1080p definition.
Resolution is the number of pixels that make up the picture on the TV. A single pixel, or a discrete part of the image, is a small dot on the screen. Today's TVs have around one million (720p) and 8 million (4K Ultra HD) of these points.