From SB Service we present the new outdoor digital touch totem for all types of events as marketing and advertising campaigns. Or fairs, congresses, hotels, restaurants … Being ideal for marketing and advertising campaigns abroad. Since their characteristics make them can be used to full capacity in the exterior.
Its protection index, IP65, allows it to work outdoors. It can cope with bad weather, such as sun, rain, wind, humidity, heat and cold. Like the rest of our touch devices are composed of 4k computer, capacitive touch screen, with multitouch technology and built-in Wi-Fi. This makes the outdoor totemt tactiles ideal for outdoor marketing campaigns.
In addition, they can be customized through the custom apps. Developed by our team of programmers. You can create games, digital catalogs, menus, information screens … That allow you to display information about your company or brand in a different way. Allowing you to interact in a different way, that will mark your audience.
In the following images you can see the new outdoor Totem Touches.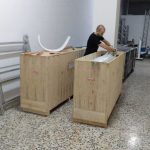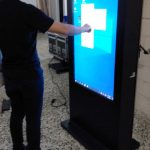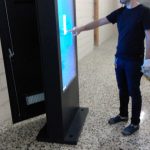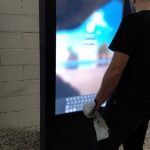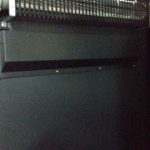 Rest of the catalogue offered by SB Service:
The rest of our catalogue consists of large format touch devices. In the form of Smartphones, rotating totems, totems, kiosks, tables and screens. All formed by 4k capacitive touch screens from 32″ to 65″, depending on the model. Also, we have audiovisuals, Led Wall. Video Wall, Square Truss, Circular Truss, Black Truss and Smart TV. If you need a customized stand for your presence at trade shows, do not hesitate to contact our partner Tangram Stands.
We have extensive experience in the sector of renting audiovisuals and interactive touch screens for trade fairs, conferences, exhibitions, shows, advertising and marketing campaigns… At trade fairs such as MWC, FITUR, Hostelco & Alimentaria, Smart City, Saló del Manga, CPhI Worldwide, IOT Solutions, SIAL… Held in Milan, Lyon, Barcelona, Hannover, Valencia, Madrid, Bilbao, Zaragoza…
Contact us in the contact section, without any obligation. And in our Instagram and YouTube you can see the quality of our work and assemblies.
SEO positioning by PosicionandoT.