Nowadays the use of touch screens is increasing in presentations, fairs, congresses, marketing and advertising campaigns… To show the information about your company, brand or product in a different way. That allows those present to interact directly and autonomously with your information.
Within the touch screens from SB Service thanks to our extensive catalog of interactive large format touch screens. We have observed that in order to attract a greater number of potential customers to your stand or place of presentation, it does not work only with touch screens. But these must be large format and different forms. To attract attention.
In addition, large format touch devices can be customized. By means of vinyls that show your brand and corporate colours. As you can see in the following images. This customization allows you to convert interactive touch devices into advertising elements.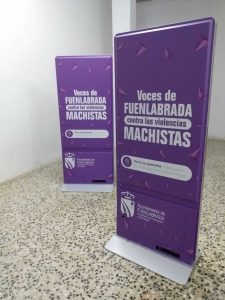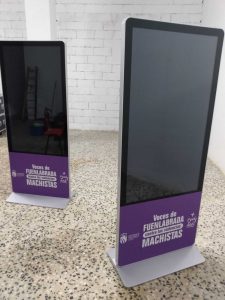 Also, they can be customized by interactive apps developed by our team of programmers. They can create games, digital catalogs, information screens, reservation centers… This makes them ideal for restaurants, hotels, shops… who want to show their information and menus in a unique way.
Catalogue of large format touch devices offered by SB Service:
SB Service for years we have focused on the rental of large format touch devices. Innovating at all times, to include the latest developments in the sector in our catalog. In the section of touch devices we have touches in the form of smartphones, screens, totems, rotating totems, outdoor totems, kiosks and tables. All of them have 4k resolution, with multitouch technology, 10 simultaneous touch points, Windows 10 Pro computer and Wi-Fi.
We also have Truss, Circular Truss, Black Truss, Smart TV, Video Wall and Led Wall. To offer the possibility of renting the necessary elements to create the best possible presentation.
In our Instagram and YouTube you will be able to watch our latest productions. If you wish to obtain a personalized budget, please go to the contact section.
Web designed by PosicionandoT.