The outdoor tactile totem are ideal for rental in tourism, marketing campaigns, shopping centres, sporting events, advertising, hotels, fairs and all kinds of outdoor events. From SB Service, we show the characteristics of the outdoor digital touch totem for all types of events. Because its features make it suitable for full outdoor use. The rental of outdoor touchscreen totems with IP65 touchscreen as we expose below are ideal for marketing and advertising campaigns.
Its main feature is its IP65 protection rating. This protection allows it to work outdoors, making the outdoor touchscreen totem rental ideal for outdoor events. Withstand adverse weather conditions such as sun, rain, wind, humidity, heat and cold. Like the rest of our touch devices, they feature 4k equipment, capacitive touch screen, multi-touch and integrated Wi-Fi.
They can also be customised with tailor-made applications. Developed by our team of programmers. They can create games, digital catalogues, menus, information screens… That show information about your company or brand in a different way. Allowing potential customers to interact in a different way, which will cause a great impression on your audience.
In the following images, you can see different works made with outdoor tactile totem: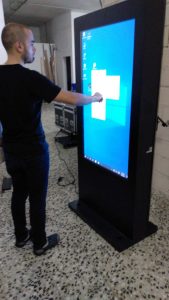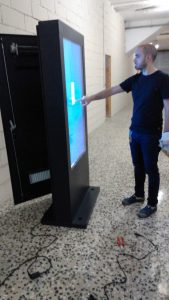 The rest of the catalogue offered by SB Service:
The restaurant in our catalogue consists of large-format touch devices. In the form of telephones or smartphones, horizontal and rotating totems, kiosks, tables and screens. All of them are 4k capacitive touch screens from 32 to 65 inches, depending on the model.
We also have an audiovisual catalogue. Formed by indoor and outdoor Led Wall, video wall, silver and black square truss, round truss and Smart TV.
We have a long experience in the rental of touch screens, interactive touch screens and audiovisuals for trade fairs, congresses, exhibitions, shows, advertising and marketing campaigns… At trade fairs such as MWC, FITUR, Hostelco & Alimentaria, Smart City, Saló del Manga, CPhI Mundial, IOT Solutions, SIAL … Held in Milan, Lyon, Barcelona, Hannover, Valencia, Madrid, Bilbao, Zaragoza…
Get in touch with us in the contact section, without any commitment. And on our Instagram and YouTube you can see the quality of our work and our montages.
SEO positioning by PosicionandoT.